About
---
Secure Care Health Systems is a major distributor of electronic monitoring devices for wandering residents, as well as lateral transfers devices, patient lifts, emergency call systems and fall prevention products. The company was formed in 1984 by its president, Harvey MacIvor. We have over 1650 client facilities in Ohio, Indiana, Michigan, West Virginia, and Western Pennsylvania. Our systems can be designed to satisfy a variety of needs. We have a full staff of sales, service, and installation representatives, and provide a 24-hour service line.
We firmly believe in supporting high quality products made in the USA. We have partnered with USA manufactures knowing that they bring the highest level of satisfaction and safety to our clients.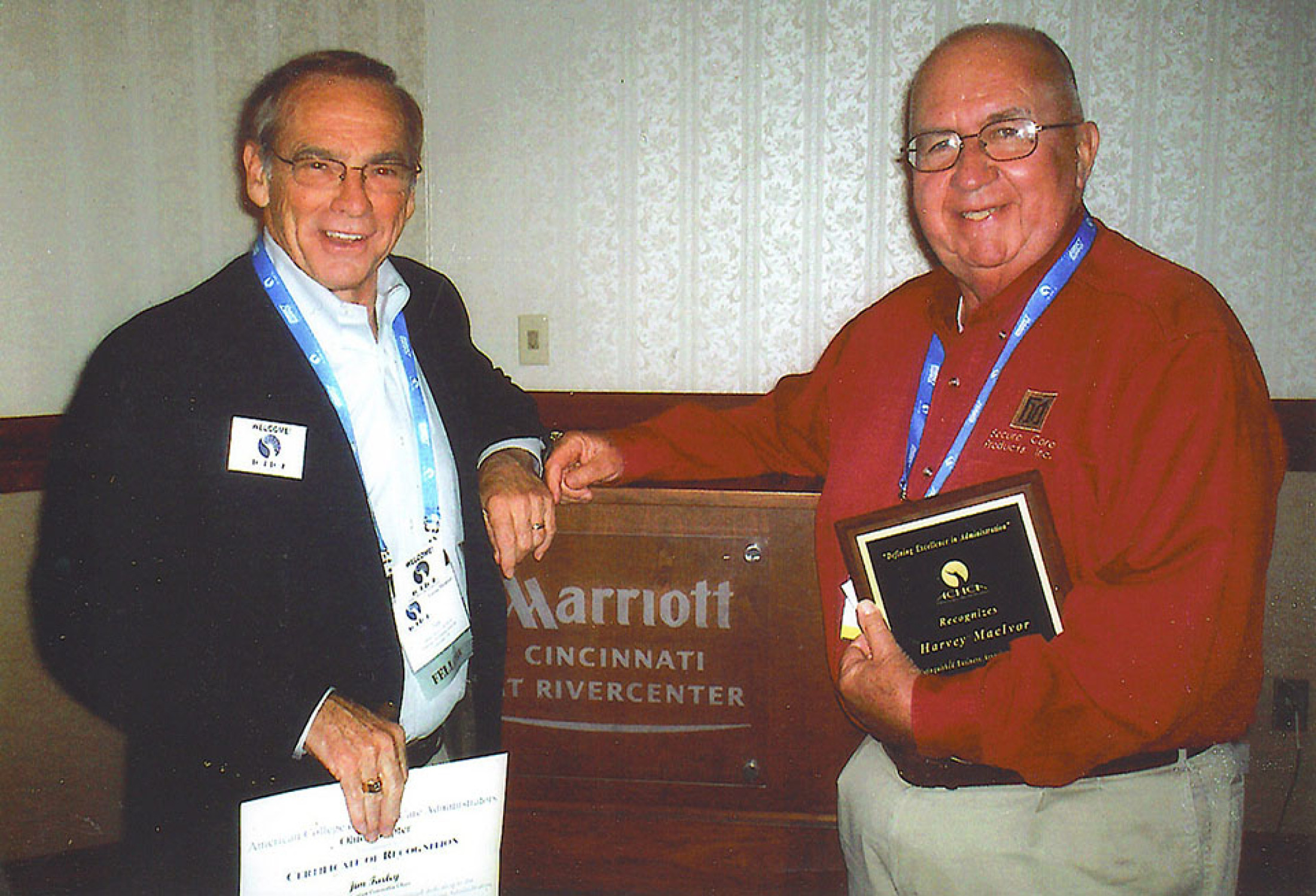 ACHCA Award
Harvey MacIvor is shown receiving the Business Person of The Year Award from Jim Farley, President of the American College of Healthcare Administrators, for his outstanding contributions to the ACHCA during 2008.
2009 ACHCA Business Man of The Year – Harvey MacIvor & Secure Care Systems.
First Platinum Distributor ongoing since 2005.
Outstanding Sales Performance of Emerald International Health Products since 2005.
Association of Ohio Philanthropic Homes Sustaining Firm 2004.
Outstanding Sales Performance of VanCare Products since 2004.
Honorary Fellowship of ACHCA May 1995.
Highest Sales Volume for Secure Care Products since 1985.
---
Memberships & Affiliations
Ohio Healthcare Association
American College
Ohio Assissted Living
Indiana Healthcare
HCAM – Healthcare association of Michigan
---
Some of Our Customers
Provider Services
Prestige Healthcare
Laurels Healthcare Company
Swanton Health Care
Griffiths Healthcare
Atrium Living Centers
Tuscolo County Care Facility
HCF Management Inc.
Springer Homes
Elmwood Care Centers
Menora Park
Montefiore Home
Wiggins Place
Lifecare Centers of America
Columbus Colony Home for the Deaf
Volunteers of America Ohio Nursing Centers
Mercy Memorial Hospital
Euclid Hospital
VA Medical Centers
Trinity Health, Livonia Michigan
WellbrigeHealthcare
HCR Manorcare
---