ReZcare Nurse Call Systems
---
Powerful, wireless technology for Assisted Living Communities, Long Term Care Facilities, & Acute Care Facilities.
---
ReZcare brings you the latest technology of Wireless Nurse Call Systems with the backbone from Inovonics for the highest level of dependability.

---
Wireless Nurse Call Solutions
Inovonics Echostream Network is based on frequency hopping and split spectrum that sends redundant messages across multiple channels to avoid interference. The intelligent repeaters provide the backbone of the network which allows this system to accommodate any size system. New power management options help extend battery life.
Inovonics technology is an ideal solution for life safety & security applications. Designed to move small to moderate amounts of data over a moderate range in commercial environments, the Inovonics EchoStream Commercial Mesh Network is based on frequency-hopping, spread-spectrum technology that sends redundant messages across multiple channels to avoid interference obstacles. The intelligent repeaters, which provide the backbone of the network, can accommodate virtually any size application, and the combination of short on-air time and sophisticated power management options allows extended battery life. Due to its low latency, or the amount of time for a message to travel from one end to the other, and reliability, Inovonics technology is an ideal solution for life safety and security applications. This now gives you very powerful reports on response time in your facility as well as improved functionality having the pagers escalate through management when a call light has been left on and staff needs some extra help caring for patients after a specific time. Check out the additional features below.
---
Features
Easy to learn and use
Customized for Facility's needs
Affordable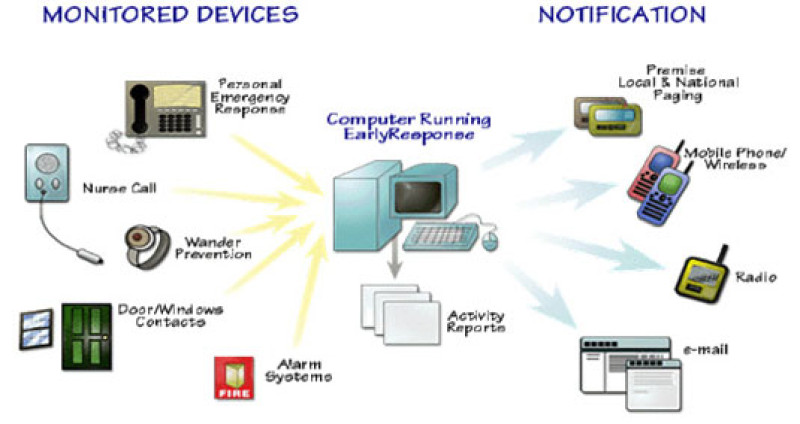 ---
Complete Safety and Security System
ReZcare is a comprehensive communication system with unlimited capabilities for call for aid, activity monitoring, notification, and reporting.
Integrates with Existing Systems
ReZcare wireless nurse call system can be integrated with existing systems. The system provides enhanced notification and reporting such as:
Addressable fire alarm panels
HVAC alarms and events
Telephone systems
Wander/Elopement systems
Intrusion alarm systems
Intercoms
Access control systems
EarlyResponse Software Manages System
ReZcare is a computer-based system using EarlyResponse software for managing, and monitoring all wireless devices and integrated systems, 24/7. It also monitors motion and egress areas of the facility.
Alarm notifications are sent to wireless devices and the alarms, and events are permanently recorded. Reports of daily alarms and events can be easily generated, viewed on the monitor, or printed. ReZcare's system generates reports for analyzing source of calls, and the response times.
Stores Patient/Resident Records
ReZcare's system is capable of maintaining patient and resident records, including photographs, medical information, family contact information, and physician information. All patient information is password protected, and secure.
ReZcare Wireless Powered by EchoStream®
Advanced EchoStream® wireless technology insures the delivery of all "call for help" alarms, and that every wireless device is monitored for operational function and low battery. All EchoStream® wireless components are continuously supervised, and staff is notified if a problem is detected.
EchoStream® technology is the next generation in commercial grade wireless from industry leader, Inovonics Wireless. Inovonics has over 20 years of experience applying frequency hopping, spread spectrum, 900 MHz technology, to create a premier wireless platform. This powerful, yet affordable technology embodies the most recent advances in radio frequency for the ReZcare system components.
---